Sunday, June 28 – Well, the weekend certainly didn't go as I had planned and I'm really bummed out.  After it rained all day Friday, Friday night and Saturday, the track was a mud hole.  Rory, Mandi and I spent Friday and Saturday watching it rain and did what we could to get ready indoors.  It ended up being relaxing and a well-needed break.  By Saturday evening, I was starting to have flash backs of 2007 when I blew a motor in the first moto.  They ended up calling the race that year because the track was so wet.
Sunday morning, we woke up to a blue sky and sunshine.  It was a huge relief but I knew the track was still going to be a mess the first part of the day.  After the first practice, I made the decision to race my practice bike.  I wasn't willing to destroy my race bike knowing I needed to race it again in only six days.  The second practice was timed and after losing my mud-packed rear fender, I logged the second fastest lap time; giving me the second gate pick for the first moto.  I picked the far inside gate and ended up with about a fourth place start.  I got shuffled back to sixth after not being aggressive enough in the first few corners.  I was hesitant and thought it was going to be muddier than it actually was.  I stayed between fifth and seventh for the first half of the race.  I was making a lot of mistakes and had a hard time finding a rhythm.  At about eighteen minutes into the moto, my engine locked up and I was done.  We think a rock busted a hole in my radiator coolant line when I slid out in a corner a few laps earlier.  I lost all my coolant and destroyed my motor.  I rushed back to the trailer and started stripping my bike to swap motors.  We only had an hour and a half before we needed to line up for the second moto.  Rory, myself, my dad, along with our friends Brian and Joel, all worked non-stop and got the bike put back together just in time.  I don't think I sat down once.
I was feeling pretty confident knowing I had a good motor and wanted redemption.  I wanted to win for the guys that worked so hard swapping my motor and knew I could.  After DNFing the first moto, I ended up with 33rd gate pick.  I knew it wasn't going to be easy to get a good start but didn't have much of a choice.  I put my head down and launched out of the gate.  I looked to the inside once, knowing that all the top guys would be coming in to the first corner hot.  I didn't let off the gas and just missed getting the holeshot.  The first two laps I was in second place and was having a hard time getting comfortable with my new motor.  It made me a little nervous but by the end of the second lap, I was feeling really strong and started to close in on the leader.  Halfway through the third lap, I hit neutral on the face of a double.  I bailed off the bike, went over the handlebars and hit the ground hard.  I jumped up, got back on the bike and tried to get back into the race but my front end was too twisted.  I pulled over and kicked on my wheel and hit my handlebars, trying to straighten them out but couldn't.  I rode over to the mechanic's area and had Rory try kicking my front wheel but there was no hope.  With my head hanging low, I rode back to the trailer and called it a day.
I think the worst part about the weekend was not finishing the second moto.  The guys worked so hard to get my bike ready after blowing up in the first moto.  It's certainly not the way I wanted to start my season but its racing and sometimes things go wrong. I'm trying to put the weekend behind me and focus on the next race.  Red Bud is an amazing venue and always has been one of my favorite tracks.  I'm hoping to get my career-first top-ten finish there.  I know it's going to be tough.  The talent is deep in the 250 class but I'm confident in my bike and my fitness.  I need to ride smart and hopefully it will come to me.
I need to send out a huge "thanks" to my mechanic, Rory.  He's been working so hard the past month getting everything ready and had a long, hard day today.  I also need to thank all of my sponsors.  They make it possible for me to do what I love to do everyday.  I feel really fortunate to be in the position that I'm in.  Even after having a rough day like today, I can't imagine doing anything else.
Tucker.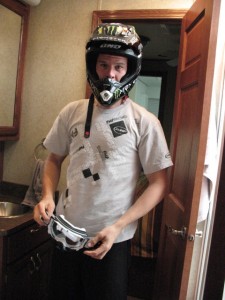 Helmet and goggles are ready!
Saturday evening.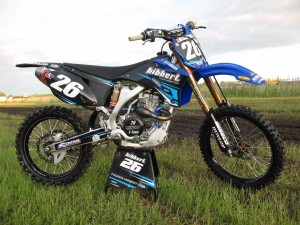 Moto 1.
Rory, my dad, Brian, Joel and I swapping motors.