March 20, 2018 – Tucker Hibbert closed out one of the most successful seasons of his career and took claim to his 11th Professional Snocross Championship at the ISOC National Snocross season finale in Lake Geneva, Wisc.
In his 18th professional snocross season, Hibbert had a remarkable run winning 11 of the 17 finals and 27 of his 34 qualifying races. With yearend championship points awarded in both qualifying rounds and finals, he set his season focus on winning every time he was on the track. It was a smart and successful strategy as he secured the championship early with a 108-point margin over second place.
Hibbert and his team were honored with two special awards at the yearend banquet. His father and crew chief, Kirk Hibbert, was awarded Mechanic of the Year while Tucker tallied the most votes by snocross fans to take home Fan Favorite Rider.
With another snocross season behind him, the multisport athlete will shift his focus to his summer passions – motocross and cross-country mountain bike racing.
Tucker Hibbert – #68 Monster Energy / Arctic Cat / Ram Truck
Grand Finale weekend recap:
"Lake Geneva is always super fun with the long track and up and down hills. It's technical and challenging. It makes for good racing."
"Racing at Lake Geneva this year was definitely a rollercoaster for me. I felt like I was riding better than I ever have and had really good speed. Some mistakes, especially the last two days, put a damper on my overall results."
Overall thoughts on the season and winning the championship:
"I felt the best I have my whole career this season – fast and consistent with a rock-solid sled. We (the team) achieved our goal of winning the championship and I couldn't be happier about that. I'm really proud of how hard everyone on the team and everyone who supports us worked this past year. What people see at the track is a tiny window into what goes into making a program successful. I'm thankful for the passion and dedication that was put into this championship and will always hold this one close."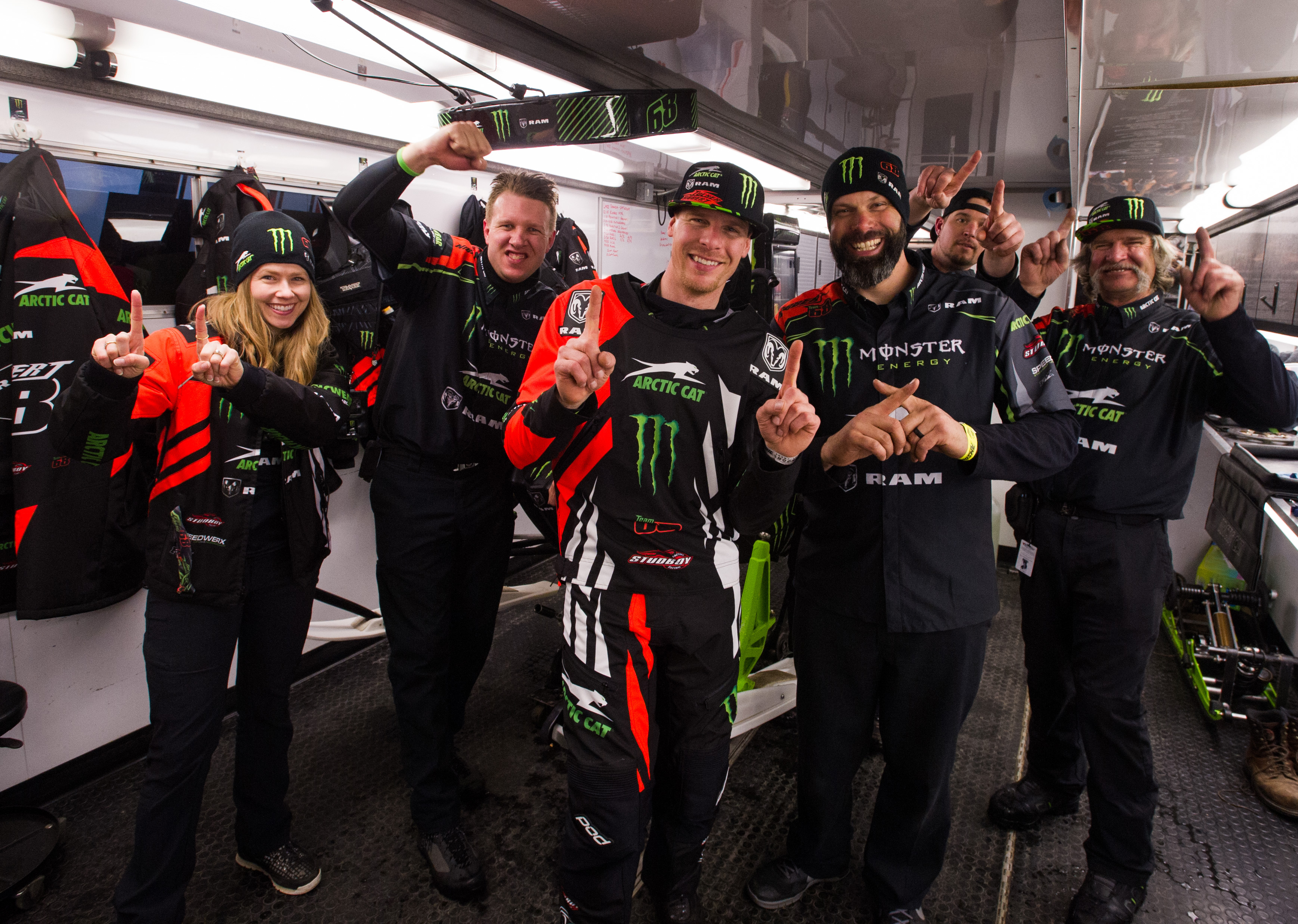 Tucker Hibbert – Ram Trucks Grand Finale Results
Friday, March 16 – Pro Round 15
Round 1 Qualifying: 1st
Round 2 Qualifying: 1st
FINAL: 1st
Saturday, March 17 – Pro Round 16
Round 1 Qualifying: 1st
Round 2 Qualifying: 1st
FINAL: 3rd
Sunday, March 18 – Pro Round 17
Round 1 Qualifying: 1st
Round 2 Qualifying: 1st
FINAL: 14th
CBS Sports Network Broadcast 
Grand Finale Day 1: Sunday, April 8 – 11:00 am ET
Grand Finale Day 2: Sunday, April 15 – 11:00 am ET
Grand Finale Day 3: Sunday, April 22 – 11:00 am ET