January 22, 2018 – Tucker Hibbert added another weekend sweep to his record book with dominant back-to-back wins in the pro finals at the ISOC National Snocross tour's stop in Deadwood, SD. Knowing Hibbert's history of jaw-dropping rides on the tight, rough track packed into the Days of '76 Rodeo grounds, fans showed up in droves with the hope of seeing the 10-time champion put on a show.
After a big win Friday night, Hibbert delivered an unforgettable performance Saturday with a rally through the field that had the sold out crowd on their feet the entire race.
A solid jump off the line in Saturday's final put Hibbert in good position but with a full lineup of riders on his inside, he got pushed off the track in the first turn. He re-entered the race in a matter of seconds but was already shuffled back to 12th position. Tapping into his experience, he passed riders quick, sometimes multiple riders at a time, and by lap 10 of the 24-lap final, moved into second place. The sub-30-second track comprised of a mix of natural and manmade snow deteriorated fast and turned into a minefield of deep holes, roost and lappers. With holeshot winner Kody Kamm in the lead, Hibbert searched for good lines to make the pass. Two laps to go, Hibbert capitalized on Kamm's repeat attempt to block him on the inside of a corner and rode around the outside of him to take control of the race. Hibbert pulled over a three-second gap and rode the rest of the race unchallenged to complete the weekend sweep.
Hibbert now has a 50-point lead over second place in the yearend points championship. The ISOC National Snocross tour will take a three-week break before heading to Salamanca, NY February 16-17.
Tucker Hibbert – #68 Monster Energy / Arctic Cat / Ram Truck
Friday night recap:
"For the final, I lined-up second from the inside which is a really good spot to be. I wanted to play it a little safe to avoid a potential crash and came out around seventh place. At Deadwood, you can't wait for the race to settle in. You have to make as much ground up as you can on the lead right away. With the wet, sticky snow and roost, I made a big effort to get to the front as fast as I could. I knew where I was when I got into third and that Logan (Christian) was in the lead. I had a good line on the inside of the first turn and Logan was taking the outside. I made up good ground on him in one lap and was able to make the pass in that corner the next lap."
Saturday night recap:
"I was all the way on the outside so it wasn't the best scenario. I focused on nailing the light and getting to the turn first. I got a good start but being so far on the outside, I couldn't get to the inside of the corner, got pushed wide and eventually off the track. I didn't get too wound up because it's pretty common for me to end up off the track in Deadwood. I've been in this situation before so I focused on getting back on the track safely and get moving. I really wanted to pass people as fast as I could when everyone was bunched up but it's tricky because everyone is racing so hard. Fortunately, I made some good decisions and passed people quickly. I was pumped to get up to second pretty quick behind Kamm and tried to take a little breather and regroup then started charging. I had some really good lines and then Kamm caught onto them so I wasn't able to make up the ground I wanted to. We were going the same speed for a while. It started getting more intense when the race was winding down and then we got into lappers. I was able to put on a charge towards the end and got right behind Kamm and once I did that, he made some mistakes and I was able to capitalize on them and take the lead."
On racing in front of a sold out crowd in Deadwood:
"It was awesome. I could hear the crowd cheering and getting loud with every pass. It's always cool to feel that. Racing in Deadwood is crazy because you're battling so many things – sticky snow, tight track, lappers. It's a race where you have to race so hard the entire time. It's not pretty but makes for a great show for the fans."
Goals for remainder of the season:
"The goals for the rest of the season are the same as always – keep making progress and keep getting better. We're focused on winning the championship and being in the position to do that means to keep improving every week."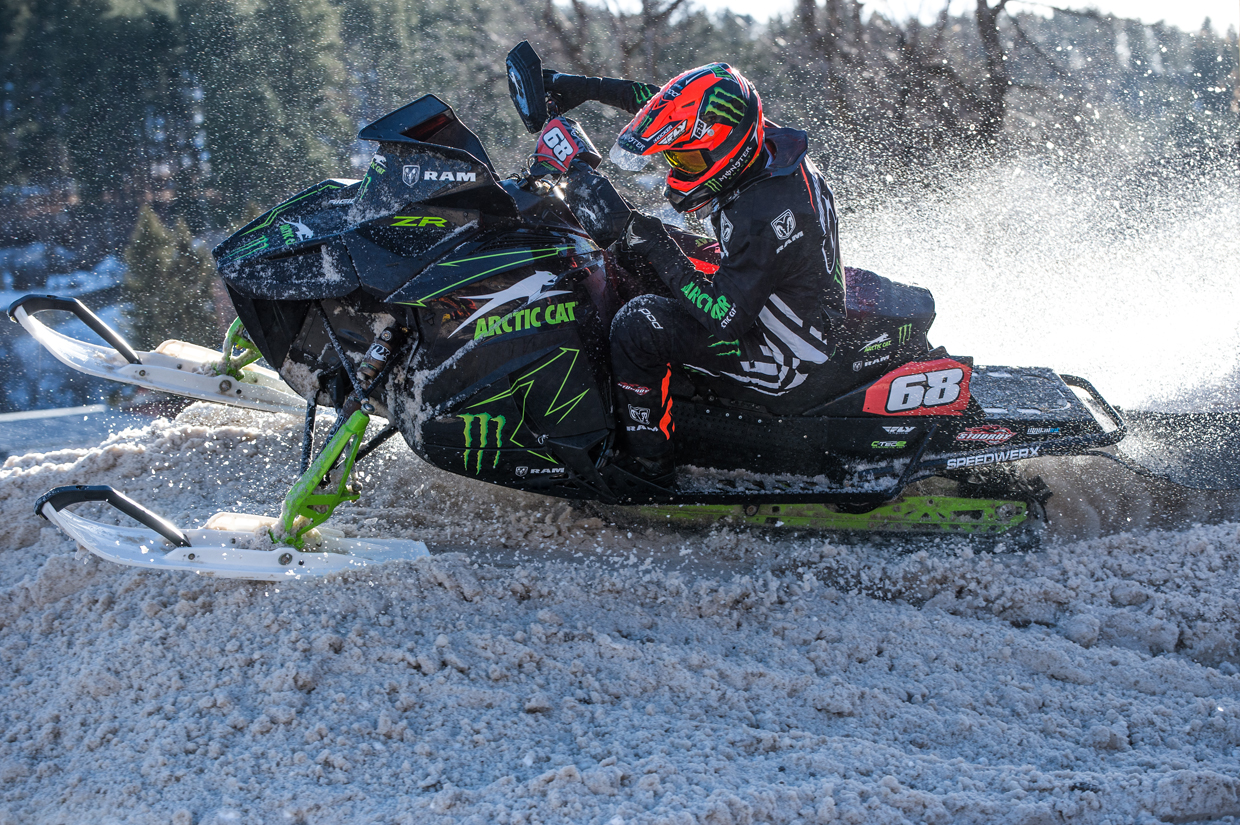 Tucker Hibbert – Deadwood National Results
Friday, January 19– Pro Round 7
Round 1 Qualifying: 1st
Round 2 Qualifying: 7th
FINAL: 1st
Saturday, January 20 – Pro Round 8
Round 1 Qualifying: 2nd
Round 2 Qualifying: 1st
FINAL: 1st
CBS Sports Network Broadcast 
Deadwood Snocross National Day 1: Sunday, January 28 – 11:00 am ET
Deadwood Snocross National Day 2: Sunday, February 4 – 11:00 am ET
Remaining 2017/2018 ISOC National Snocross Events
Salamanca, NY // February 16-17, 2018
Mt. Pleasant, MI // February 23-24, 2018
Dubuque, IA // March 9-10, 2018
Lake Geneva, WI // March 16-17, 2018
All images © Lissa Marsolek