February 19, 2018 – Tucker Hibbert extended his points lead in the ISOC National Snocross Championship at the Eastern National in Salamanca, NY. Hibbert was untouchable in qualifying and with points being awarded for qualifying rounds, he racked up valuable points despite going 13-2 in the final events.
In Friday night's final, after winning both qualifiers, Hibbert lined-up on the far outside due to ISOC's pro start rule which requires riders to take their pick in an inverted order based off their results earned in qualifying races. To avoid getting pushed off the track in the tight left first turn, he grabbed the brakes and slotted to the back of the 15-rider field. He made passes quick and on lap seven of 22, moved into seventh. Two laps later, he misjudged the speed and position of another rider and put himself in a line that caused him to get partially landed on. Hibbert was unharmed but the incident left his throttle cable broken. Unable to continue racing, he exited the track and was scored 13th based on the number of laps he completed.
Saturday night, Hibbert was once again the number qualifier for the final event. Instead of starting on far outside of the front row, he opted to start from the back row with the goal of being in a safer position through the first turn. He got through the first turn clean then ran into a rider who was stopped at the top of the first jump, leaving him in last place. With minor damage to his right ski and a-arm, he charged forward. Lap eight of 22, he moved into eighth place. With a 14-second deficit to make up on the leader, he clicked off fast lap after fast lap and with two laps to go, passed Logan Christian for second place. Hibbert kept the pressure on to the end to finish 1.3 seconds behind race winner Kody Kamm.
Next up for Hibbert is the Michigan National this weekend in Mt. Pleasant. The 10-time champion now holds a 61-point lead in the 2018 points championship. For more information on Hibbert and his schedule, visit tucker-hibbert.com.
Tucker Hibbert – #68 Monster Energy / Arctic Cat / Ram Truck
Friday night recap:
"The race didn't go quite as planned after getting a bad start. It took me a few laps to get into a groove and make forward progress. Once I did that, I started feeling a lot better and charging towards the front. It fell apart about halfway through the race when I was trying to make a pass on a rider. I thought he went over the inside berm to the outside and at the last second I realized he was still on the inside berm and I had drove basically underneath him. At the last second, I saw and heard his sled and I was able to lean back and get my right hand off the handle bar before his track caught my bars. I was lucky to not get hurt but unfortunately the mistake took me out of the race with a broken throttle cable. I was definitely bummed to be sitting on the sidelines when I wanted to be charging to the front."
Saturday night recap:
"We [the team] tried to figure out the best scenario for the starting line and the first turn to avoid getting taken out and improve our chance of a better start. We decided to go to the back row. I feel like it was right decision but unfortunately I got tangled with another rider right out of the first turn. It didn't work out and I had to come from last place. I didn't really get a good look at where Kamm was until I was in third place and had passed Logan for second. I was focused on not making mistakes and charging hard. I got real close. I was feeling like I could get the win, especially if Kamm made a mistake. I have won a lot of races like this in the past so I knew I could do it but came up a little short of getting it done."
Overall thoughts on the weekend:
"I'm excited about the championship and where we're at with that. Obviously extending the points lead each weekend is awesome and that's a goal for us but, for me, winning races is where it's at, so it's a little frustrating. It's unfortunate that it's so challenging to race for final wins after winning all the qualifiers and being so fast. We're staying focused on our season goals which are to win every time we're on the track and to win the championship."
Tucker Hibbert – Eastern National Results
Friday, February 16 – Pro Round 9
Round 1 Qualifying: 1st
Round 2 Qualifying: 1st
FINAL: 13th
Saturday, February 17 – Pro Round 10
Round 1 Qualifying: 1st
Round 2 Qualifying: 1st
FINAL: 2nd
CBS Sports Network Broadcast 
Eastern Snocross National Day 1: Sunday, February 25 – 11:00 am ET
Eastern Snocross National Day 2: Sunday, March 4 – 11:00 am ET
Remaining 2017/2018 ISOC National Snocross Events
Mt. Pleasant, MI // February 23-24, 2018
Dubuque, IA // March 9-10, 2018
Lake Geneva, WI // March 16-17, 2018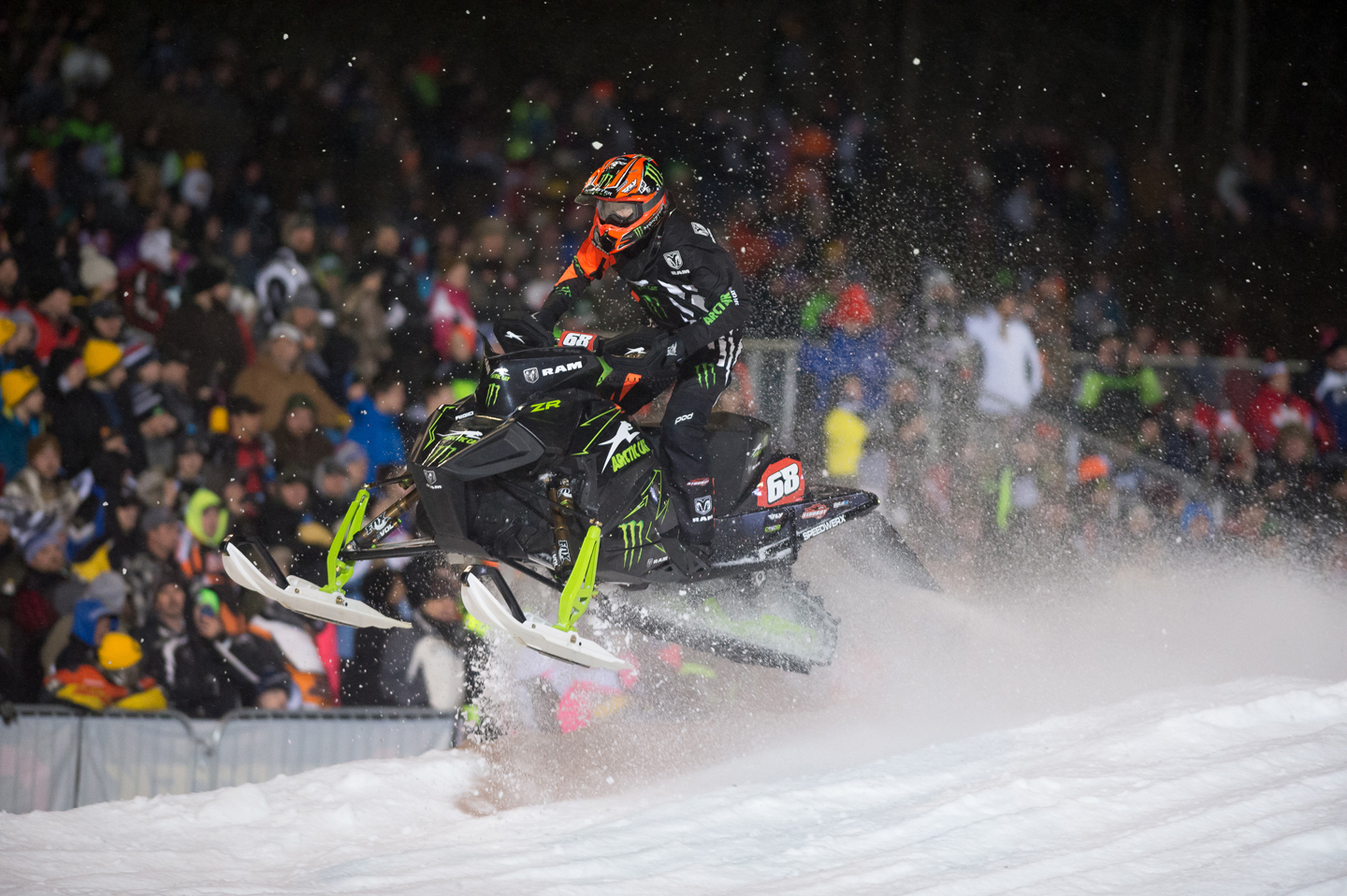 Photos ©Lissa Marsolek